What is a Soil and Water Conservationist?
A soil and water conservationist is a type of conservation scientist that performs land surveys, designs soil or water conservation plans, creates guidelines to prevent erosion, develops practices for sustainable land use, and monitors water and soil conditions.
Successful agriculture depends on healthy soil and water. Life needs a continual source of water for sustenance, and soil is essential for plant growth, providing nutrients, water, physical support, and biological interactions with roots. Fertile soil and clean water are both renewable resources in natural systems, and can also be renewable resources in the context of agricultural production.
What does a Soil and Water Conservationist do?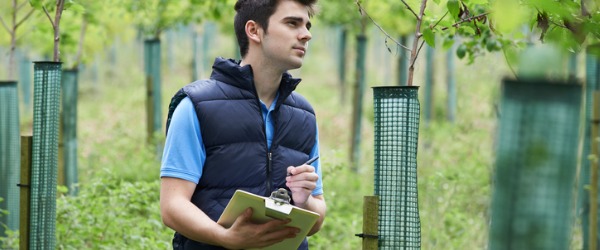 Soil and water are required resources for life on earth, and are closely linked in nature, impacting each other through the hydrologic, geo-chemical and energy cycles. An impact on the soil system often has a direct impact on water resources.
A soil and water conservationist's work looks at the conservation of soil, water, and related natural resources on land used to produce food, fibre, and other services that improve people's quality of life. They work to discover, develop, implement, and improve ways to use land that sustains its productive capacity and enhances the environment at the same time.
To understand the extent and cause of land erosion, soil conservationists take measurements and collect soil samples. They present clients with reports and help them develop management and conservation plans. They also utilize engineering manuals and technical guides to create specifications for plan implementation.
Soil conservationists can supervise other conservation workers who construct erosion barriers or plant new crops. They may also perform long-term monitoring to ensure conservation plans are properly followed. If they work for governments, they can perform environmental compliance checks, review annual reports and manage local field offices.
Soil and water conservationist's duties may include:
Advising farmers on how to rotate different crops to avoid depleting the soil of nutrients and to conserve water
Advising landowners on ways in which they can safely use their land for recreation, without degrading its quality
Travelling to areas that are experiencing erosion and develop plans to control it
Helping ranchers determine the number and kinds of animals to graze, and during what seasons to graze them
Participating on work teams to plan, develop, or implement programs or policies for improving environmental habitats, wetlands, or groundwater or soil resources
Implementing soil or water management techniques, such as nutrient management, erosion control, buffers, or filter strips, in accordance with conservation plans
Identifying or recommending integrated weed and pest management strategies, such as resistant plants, cultural or behavioural controls, soil amendments, insects, natural enemies, barriers, or pesticides
What is the workplace of a Soil and Water Conservationist like?
Soil and water conservationists can work in a variety of locations. In the office, they may analyze data, research new technology, communicate with clients, and participate on committees for policy, regulation, and educational program development. In the field, conservationists can inspect and test crops and soils, monitor water control structures, make presentations to farmers and businesses, and participate in field tours and training sessions.
The government is a major employer of soil conservationists; agriculture corporations and mining companies are other employers in this field.
Soil and Water Conservationists are also known as:
Erosion Control Specialist Resource Conservation Specialist Resource Conservationist Soil Conservationist